The enuit box is the new outdoor adventure concept from enuit and combines puzzles, board games, computer games and outdoor adventures in a great setting, namely the world outside – the original! Do you like puzzles outdoors in a team and do you like exciting stories? Then the enuit box is just right for you.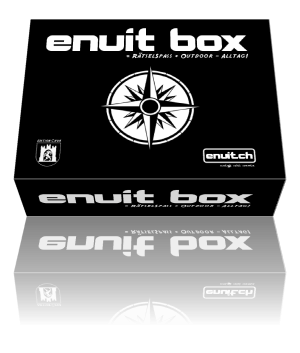 The highlights of the enuit boxes:
A puzzle fun across Switzerland with different adventures!
Get started immediately and solve exciting puzzles alone, in a team or in groups!
The adventure can be interrupted at any time, continued later or repeated!
Adventure boxes contain valuable puzzle utensils for great adventures!
A playing time of at least 2 hours!
Forget everyday life and immerse yourself in the history of the Molores and Jerids and always make a groundbreaking decision at the end!
The ultimate fun for families, companies, holiday guests, schools, bachelor parties and birthday groups!
The fascinating adventure from the makers of Adventurerooms Chur, the Magic Portal and Operation Mindfall Chur (awarded the Certificate of Excellence).